In the 4th century, Christians were prepared to build larger and more handsome edifices for worship than the furtive meeting places they had been using. Architectural formulas for temples were unsuitable, not simply for their pagan associations, but because pagan cult and sacrifices occurred outdoors under the open sky in the sight of the gods, with the temple, housing the cult figures and the treasury, as a backdrop. The usable model at hand, when Constantine wanted to memorialize his imperial piety, was the familiar conventional architecture of the basilicas. These had a center nave with one aisle at each side and an apse at one end: on this raised platform sat the bishop and priests. Constantine built a basilica of this type in his palace complex at Trier, later very easily adopted for use as a church.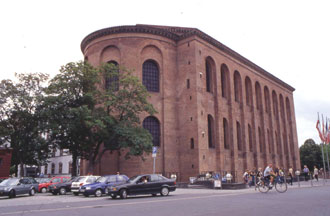 It is a long rectangle two stories high, with ranks of arch-headed windows one above the other, without aisles (no mercantile exchange in this imperial basilica) and at the far end, beyond a huge arch, the apse in which Constantine held state. Exchange the throne for an altar, as was done at Trier, and you had a church.
"Latin cross" or "Greek cross"
The transept is the area set crosswise to the nave in a cruciform ("cross-shaped") building in Romanesque and Gothic Christian church architecture. The transept separates the nave from the sanctuary, whether apse, choir, chevet, presbytery or chancel. The transepts cross the nave at the crossing, which belongs equally to the main nave axis and to the transept.
Rarely the basilicas and the church and cathedral planning that descended from them were built without transepts. Sometimes the transepts were reduced to matched chapels. More often the transepts extended well beyond the sides of the rest of the building, forming the shape of a cross. This design is called a "Latin cross" ground plan and these extensions are known as the arms of the transept. A "Greek cross" ground plan, with all four extensions the same length, produces a central-plan structure with consequences for the liturgy.
"Latin cross"
"Greek cross"
The first basilicas with transepts were built under the orders of Emperor Constantine, both in Rome and his "New Rome," Constantinople:
"Around 380, Gregory Nazianzen, describing the Constantinian Church of the Holy Apostles at Constantinople, was the first to point out its resemblance to a cross. Because the cult of the cross was spreading at about the same time, this comparison met with stunning successs." (Yvon Thébert, in Veyne, 1987)