San Clemente is not one, but three churches constructed one above the other, resting on the remains of earlier Roman habitations.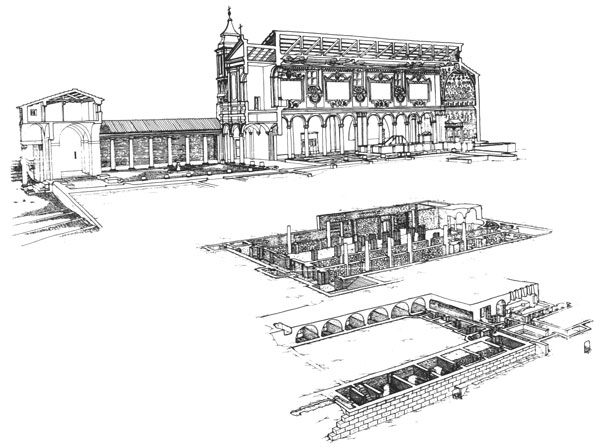 This drawing shows three of the four levels of the San Clemnte complex: on the bottom is the titulus (itself built over a more ancient apartment house not shown),
in the middle the original church,
and on top the church commissioned by Paschal II.
Titulus Clemens
(Titular churches in early Rome were so-called after original title holders whose private homes had been used for Christian worship.)
This house was oiginally owned by Roman consul and martyr Titus Flavius Clemens who was one of the first among Roman nobility to convert to Christianity.
Church built here centuries later was named after Pope St. Clement I.
Mithraic temple
from 2nd century A.D.
Mithraism, introduced to Rome during the time of Pompey (67 B.C.), became popular among the Roman legions in Asia Minor ad spread rapidly throughout the Empire, reaching its peak in the late second century, when even the Emperor Commodus converted. The cult was finally banned in the late fourth century.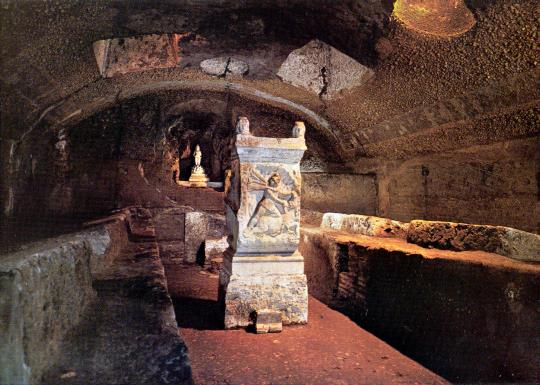 What was probably the altar has a classical bas-relief portraying Mithra in his Phrygian cap, plagging his dagger into bull. The bull was thought to give birth to all living things, and Mithra, its slayer, was worshipped as a creative force.
picture above shows Mithraic schoolroom